Help - Sharing a Dashboard
You can share a Dashboard with other subscribers. Enter their email addresses below to invite them to add one of your Personal Dashboards to their account and an invitation request will be sent to them.
Users who accept your invitation will be able to view, but not alter, the Dashboard you have shared with them.
Enter the email addresses of users you wish to share a dashboard with, separated by comments and click 'Share Dashboard'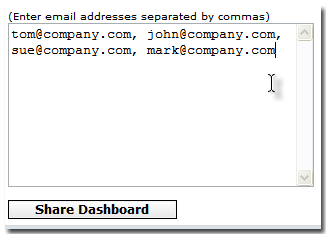 View Related Help Topics
• Adding Content to a Dashboard
• Creating a New Dashboard
• Managing Dashboards