Help - Intraday Charting
Adding an Intraday Chart to a Dashboard
To add an Intraday Chart to one of your personal dashboard displays, click the add (

) icon at the top of the screen.


Changing Frequency
Intraday Charts display in one minute intervals by default. You can change the frequency to display:
• Every 5 Minutes
• Every 15 Minutes
• Every 30 Minutes
• Hourly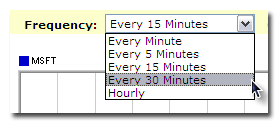 Performing Comparisons
To compare the current company with an additional company, simply enter the ticker symbol in the "Compare to Ticker" field and click the add (

) icon.


Switching Intraday Charting Views
By default, Intraday Charts display in a Mountain View style. Switch to a Straight Line view by clicking the link displayed underneath the chart.


View Related Help Topics
• Adding Content to a Dashboard
• Historical Charting