Help - Historical Charting
Adding a Historical Chart to a Dashboard
To add a Historical Chart to one of your personal dashboard displays, click the add (

) icon at the top of the screen.


Adding Charting Options
To display dividends, splits or both within the historical chart display, select from the option selector.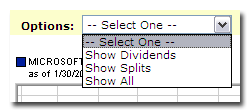 Changing the Timeframe
By default, the historical chart displays 1 year of data. Using the time frame selector, choose from:
• 1 Month
• 2 Months
• 3 Months
• 6 Months
• 1 Year
• 2 Years
• 3 Years
• 5 Years
• 10 Years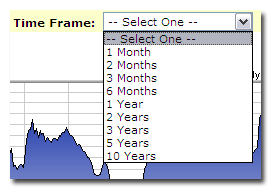 Performing Comparisons
To compare the current company with an additional company, simply enter the ticker symbol in the "Compare to Ticker" field and click the add (

) icon.


Switching Historical Charting Views
By default, Historical Charts display in a Mountain View style. Switch to a Candlestick view, Straight Line view, or OHLC (Open High Low Close) view by clicking the appropriate link displayed underneath the chart.


View Related Help Topics
• Adding Content to a Dashboard
• Intraday Charting