Help - Managing Alerts
You can quickly access all of your current alerts by clicking 'My Alerts' in the upper right of every screen.


Creating a new alert
Click 'Create New Alert' from the Manage Alerts screen.



You will taken to the All Filings search screen, where you can enter in any criteria. To create an alert, click
.
Optionally, you can add an alert from any search result screen, by clicking on 'Add Filings Alert' at the top of your results.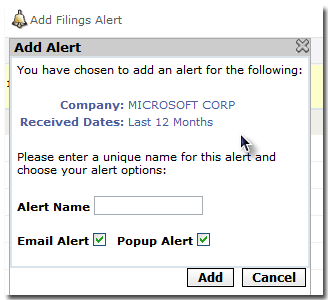 Enter a name for your alert. By default, you will receive both email and popup alerts. Click Add to create the alert.
Choosing an Email Format
You have the option of receiving email alerts in an enhanced HTML format providing a greater level of detail or in text format. Simply toggle the choice to switch formats.

Delete an Alert
You can delete an alert by clicking the delete (

) icon. You will be prompted to confirm the deletion of any alert.
Edit an Alert
You can change the criteria of any alert you have already setup by clicking the edit (
) icon.
View Related Help Topics
• Managing Your Email Addresses